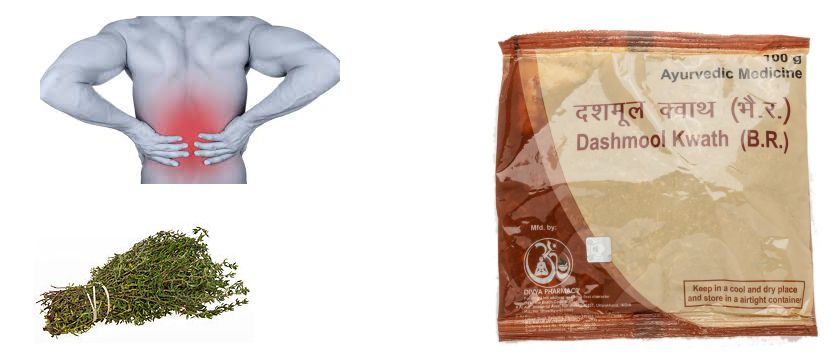 Overview of Dashmool Kwath
Dashmool Kwath is the composition of Ayurvedic herbs and is formulated by the combination of ten herbs. Its name is derived from 'Dash' means 'Ten' and 'Mool' means 'Roots'. Dashmool Kwath is used for the treatment and prevention of various health problems such as nerves pain, lower back pain, fever, and lung problem. It has anti-inflammatory, antipyretic, anti-oxidant, anti-rheumatic, analgesic, sedative, and distress properties. Dashmool Kwath composition helps in the relaxation of nerves and reduce the inflammation by providing the required nutrition in the body. It acts as a catalyst for other medicine for providing various health benefits naturally. Recent studies have shown tremendous results in the treatment of gynecological problems such as irregular menstrual cycles, PCOS, and vaginal infections.
Composition of Dashmool Kwath
Dashmool Kwath is the formulation of various natural herbs and its composition have numerous health benefits. We have specified the general composition underneath:
| | |
| --- | --- |
| Botanical Name | Common Name |
| Desmodium Gangeticum | Shalparni |
| Uraria Picta | Prashniparni |
| Solanum Surattenese | Choti Kateli |
| Tribulus Terrestris | Gokhru |
| Aegle Mermelos | Belgiri |
| Premna Integrifolia | Arnimool |
| Proxylum Arborea | Sonapaatha |
| Sterospermum Suaveoleus | Paadal |
| Gmelina Arborea | Gambhari |
| Solanum Xanthocarpum | Kantakari |
**Above mentioned composition may vary from the actual product.
Benefits of Dashmool Kwath
Dashmool Kwath has numerous health benefits and is used for the treatment or prevention of various health illness. We have specified the best-reported benefits underneath:
Anxiety – Stress is the root cause of anxiety and which can lead to various health problems however, you can prevent anxiety by using Dashmool Kwath regularly as it relaxes the stressed nerves and veins in the body to provide relaxation in the body. It is very useful in strengthening the weak nervous cells and stressed vein to prevent any discomfort
Rheumatism – An inflammation and severe pain in the joints, muscles, or fibrous tissue which can cause severe discomfort in the body however, Dashmool Kwath has anti-rheumatic properties which reduce the inflammation and pain in the joints especially in the lower back area
Respiratory problems – Discomfort related to breathing, cough, sneezing, and mild fever can be treated by using Dashmool Kwath on regular basis due to anti-pyretic and tonic properties it can provide the relief from respiratory problems naturally
Insomnia – A very common problem of not having proper sleep  due to numerous lifestyle problems or chronic health problems however, you can have a deep and relaxed sleep by consuming Dashmool Kwath as prescribed by the specialist for the best results due to its sedative properties
Gynecological disorders – Woman face this problem very frequently nowadays due to numerous reason however, Dashmool Kwath can provide you the relief from the gynecological problems due to the formulation composition of Tribulus Terrestris linn which helps in the treatment for gynecological problems
Indigestion – The Sterospermum Suaveoleus alleviates the digestive system to strengthen the inner lining and soothe indigestion in the body. You can use it for the treatment and prevention of indigestion as prescribed by a specialist
Detoxifier – Dasmool Kwath acts as a natural detoxifier by flushing out excess toxins in the body. It provides the relief and improves the functioning of the body by detoxifying the body
Side effects of Dashmool Kwath
Dashmool Kwath is safe and well tolerated for the consumption by an individual. However, it is not recommended for the pregnant and lactating woman due to the strong composition of natural herbs. Overdosage of Dashmool Kwath can cause severe discomforts such as vomiting, nausea, headache, diarrhea, abdominal discomfort, burning sensation, palpitation, and indigestion. It is recommended to consult a specialist before using it and allergic to any composition should take precautions before using.
Availability of Dashmool Kwath
Dashmool Kwath is available in powdered packing of 100 grams and can be purchased through the online or nearby markets at a nominal cost of 20 INR and 5 USD. It is advisable to store it in a cool or dry place with no direct sunlight. Keep it out of children reach. Keep it in an airtight container after opening the package.
Dosage of Dashmool Kwath
Dashmool Kwath dosage depends upon the age, height, weight, and severity of the illness however, we have specified the general dosage underneath:
5 grams twice a day
With lukewarm water
After the meals
Note: Allowed maximum dosage of dashmool kwath is 15 grams.
Buy Dashmool Kwath
Disclaimer: Nothing in this article is to be construed as medical advice, nor it is intended to replace the recommendations of a medical professional. For specific questions, please consult a specialist for advice.